Posted by hougansydney.com on Saturday, December 30, 2017
Under: Op-ed

It is no secret that the elites of Haiti have always been indifferent to the situation of the majority of the Haitian Population. But what they did to celebrate their year-end in Haiti in 2017, could not have better highlighted the level of disparity between the poor and their tiny elitist class which has been ruling over the country since its foundation in 1804; their complete disdain and contempt for the black majority and, their absolute carelessness about the environment surrounding their gated communities.
The French Language has always been the greatest symbol of differentiation and inequality between the elites, with their "knowledge" of French, and the Creole-speaking masses. To make that, among other things, clearer this year, the world famous French iconic singer, Charles Aznavour, who is 93 years old, was booked for a one day concert, on December 29th, 2017, in Petion Ville, Haiti's wealthiest suburb.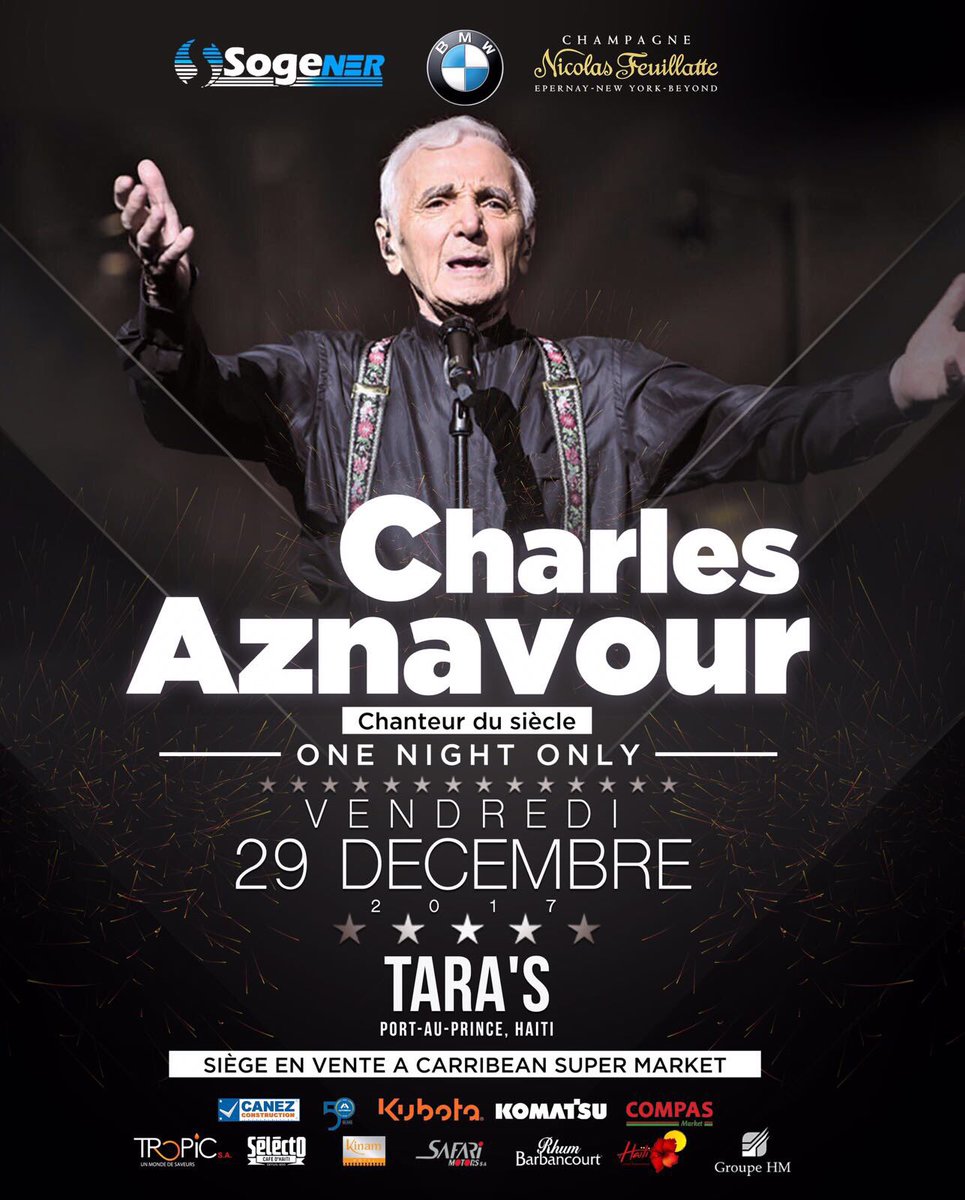 Let me emphasize that for you. Charles Aznavour, one of the most respected and iconic french singers, this year, did not do a holiday concert neither in Paris, Bordeaux, Lyon, Quebec, nor Montreal or any french oversea territories, but in Haiti. The poorest country in the Western Hemisphere. It was not a benefit nor a public concert. The ticket was between $100 to $250. Some 1.700 people were expected. In perspective over 70 % of the Haitian population live on less than $2 a day. No need to say who this concert was for.
The genius idea to organize such an event was of the Bigo Production, a company that specializes in promoting special events in Haiti. It is headed by the son of former President Michel Martelly, Olivier Martelly, whom greeted Mr. Aznavour at the Toussaint Louveture International Airport in the capital, on December 27th.
If, like Charles Aznavour, you were in the Haitian Capital on the morning of Wednesday, December 27th through the 29th, with all the trash and debris that overtake roads, sidewalks and entrance of buildings; the display of abject poverty nearly everywhere you look, you would not think for a second that a concert of such a famous singer was soon to take place the next town over.

This concert seems more like an insult to the Haitian people who have undergone such hardships this year, rather than a "promotion of Haiti's tourism" as they would make you believe.

-Due to the devastation of Hurricane Matthew in October of last year, more than half of the Haitian population is in chronic food insecurity, according to the United Nations, as well as the Haitian government's own estimation.

-The Haitian economy only grew by 1.2% in 2017

-More than 70% of the population in 2017 did not have access to health care.

- A senatorial commission published a report accusing a number of former and current government officials as well as businesses, of squandering, embezzling, mismanaging more than $3 billion of the so called PetroCaribe funds, meant to finance social projects.
In : Op-ed