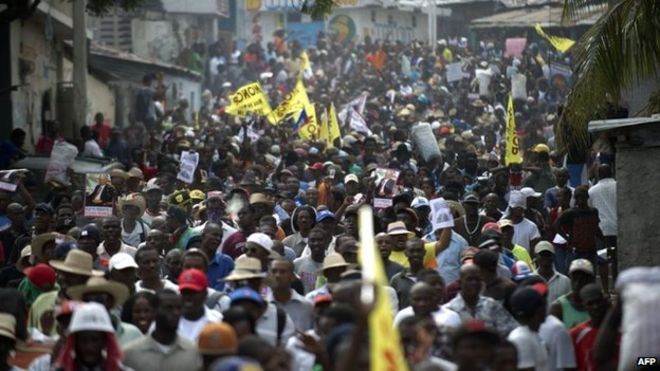 The indefinite postponement of the second round of presidential elections in Haiti has not softened the tense atmosphere hanging over the country. A day after the announcement was made by the head of CEP Pierre Louis Opont, violent protests took place in different locations around Haiti's capital Port-au-Prince.
Many main arteries of downtown Port-au-Prince, Delmas and Petionville were blocked with barricades in flames. Many private properties were vandalized. Stones were thrown at businesses and private residences without discrimination, cars were burned, and those that were not set on fire, their windshields were broken.
Amid all this violence, condemned both by the candidate supported by the government Jovenel Moise as well as the opposition candidate Jude Celestin; the message of the protesters was clear: "we will not obey until the remaining members of the CEP resign, President Michel Martelly is out of power and a transitional government is set to conduct the elections," yelled Alcide Joseph 23, his opinion is that thousands of people in the streets since the publication of the f disputed elections results, protesting.
The third postponement of the elections has reinforced the popular movement, exposed the weakness of the current government, the inability of the CEP and this time, fear of the international community to further impose its will and inflame the fragile situation.
Official statements rain from the most important world organizations and leaders. The European Union, the United Nations, the OAS, as well as a US Senator, all urging Haitian political actors to come to an agreement to prevent the country from making such a constitutional defect. But it is highly unlikely that the second round of the presidential election could be organized in time for the swearing in of a new president on February 7, as prescribed by the Haitian Constitution.
Thus, the country is heading towards deep uncertainties. No one knows the magic formula that would solve the crisis and no one can predict what will happen after this February 7th. The recently modified Haitian Constitution says that the Prime Minister will take the presidency in the event of a vacuum, so that new elections can be organized within 90 days.
Paul Evans, the current Prime Minister is de facto, he has not been confirmed by Parliament as required by the Constitution; Parliament was disbanded at this point; the terms of the majority of its members had expired. The President was unable to reach agreement with the opposition to hold elections; hence
, the current political crisis.
During his interview on Radio Télé Métropole, President Michel Martelly admitted that the international community had made it very clear that they will not recognize any transitional government. The president has even warned that an embargo could be imposed on the already impoverished nation.
An agreement between the presidential candidates seems to be the only way out of this electoral quagmire, but that is also highly unlikely.