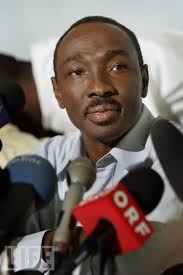 Just as promised, Haiti's newly installed prime minister, Evans Paul has formed his new government. Just as expected, some ministers from the previous government of former Prime Minister Laurent Salvador Lamothe, who was forced to resign over overdue elections, in an effort to resolve

the political crisis that Haiti faces.
Dr Florence Duperval Guillaume, who occupied the post of interim prime minister of Haiti, shortly following the departure of Laurent Lamothe, has returned to her original role of Minister of Pubic Health and Population. Dr Florence is highly regarded by the international community for her professionalism and integrity. Haiti's Ministry of Public Health under her leadership became the only Haitian government agency to receive direct funding for its works from the U.S government.
The young, dynamic, admired professional Minister of Tourism, Stephanie Balmir Villedrouin have kept her functions as Haiti's Minister of Tourism. A number of other ministers have also kept their position, such as Nesmy Manigat, as minister of education.
Evans Paul emphasized last week on a Radio Station in Port-au-Prince, that besides elections, reforming the public administration to reduce corruption and bureaucracies would be his first goal.
"The country is in crisis and the state coffers are almost empty. With all this, it is normal that there are fewer and fewer departments of State secretaries in the next government. This is not even a logical Evans Paul, but it ''s a reality, "said K-Plim, arguing that in Haiti, sometimes official positions are created just to please individuals. "We can not do that to our country! »
But as we go over the list of appointed ministers and secretaries of states, we cannot help ourselves from questioning the importance of some departments.
The citizen Michel Chancy was appointed Secretary of State for Animal Production;
The citizen Fresner Dorcin was appointed Secretary of State for Plant Production;
The citizen Fednel MONCHERY was appointed Secretary of State for Agrarian Reform;
The citizen Pierre André Gedeon was appointed Secretary of State for Agricultural Renewal;
Why couldn't the Ministry of Agriculture and environment handle these four sub-categories?
The new Prime Minister of course as the new head of government, will have the monumental task of organizing the three years overdue elections.
The appointment of Jean Fritz Jean-Louis as Minister Delegate to the Prime Minister in charge of electoral issues proves that elections remain the most important issue on the desk of Mr Evans Paul.
In : Politic