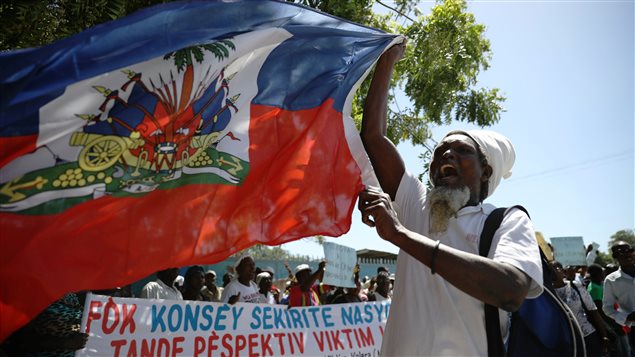 The arrival of the United Nations Security Council in Haiti on Thursday to discuss the transition of the current UN Stabilization Mission in Haiti (MINUSTAH) into the Mission for Support to Justice (MINUSJUSTH) has sparked a series of mass protests throughout the country.
Thousands of people gathered in front of the United Nations headquarters in downtown Port-au-Prince, as President Jovenel Moise met with the delegation of the Security Council.

The presence of United Nations troops in Haiti since 2004 remains a very controversial issue to say the least, especially since it was revealed that infected UN peacekeepers from Nepal, were responsible for the introduction of a deadly cholera epidemic in Haiti in 2010, that has so far claimed the lives of over 10.000 and sickened 800.000 more. Hundreds of peacekeepers, notably from Sri Lanka, have also been accused of sexually abusing hundreds of children in Haiti.
"Cholera has condemned us, ruined us and also continues to kill the people here, "
said one of the participants at a demonstration that took place outside the main headquarters of the Minustah in Port-au-Prince.
For Sandro Joseph, a law student at the State University, if there must a new U.N mission in Haiti "
it should be to investigate the crimes committed by UN soldiers or to compensate the victims of cholera."
Last December, then U.N Secretary General Ban Ki moon, after six years of denial of any wrong doing, while he was apologizing on behalf of the organization for the sexual abuses peacekeepers committed as well as for the role of the world body in the cholera outbreak, made the pledge of $400 million to compensate the victims of cholera and to finance Haiti's potable water infrastructure. However only a little of over $2 million have so far been raised, as countries such as the United States and others continue to withdraw their commitment to the U.N Haiti Cholera Fund.

For his part, the representative of Bolivia to the Security Council said that the entity recognizes the existence of the problem and reiterated the commitment of the U.N to find a solution .
In : Justice