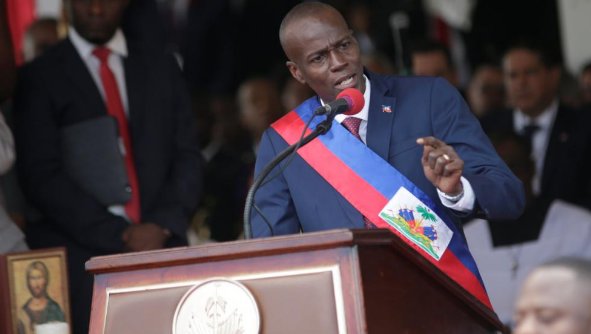 Haitian President Jovenel Moise, during his inaugural speech yesterday made many promises to the Haitian people, among them to work hard to meet their numerous expectations.
Moise said that he is aware of the many challenges that Haiti faces, but he believes that if he everyone work together and change their "mentalities" Haiti will accomplish great success.
"Using the land, the rivers, the sun and the people to develop our country." Moise, with passion reiterated the development of agriculture, his "specialty," a long forgotten sector in the Haitian economy, putting it at the center of his vision for a new Haiti going forward.
The President calls on everyone, regardless of political affiliation to work with him, for the poor nation to overcome many of its pressing challenges, because " the future of Haiti, will only be what we make of it." President Moise warned that the endless political crises that have characterized Haiti over the years, have "pull back the country very much," and encourage the people to put a stop to that cycle.
The President will take advantage of every tools available at his disposal to implement new sets of economic policies in order to create jobs and new businesses.
The american representatives at the investiture ceremony listened with close attention as President Jovenel Moise specified the U.S legislations HELP and HOPE, passed by the american congress following the catastrophic earthquake in 2010, giving preferential tax treatments to Haitian garments' exports.
Speaking before an enthusiastic moderate-size crowd, the newly sworn in President evoked memories of when Haiti was a popular tourist destination, "What has happened?" he asked. Under his administration, the tourist industry will be revived he promised, citing as an example a cable connection within two years of his mandate, of the famous fortress La Citadelle in the north, to the the popular tourist destination of Labadee, where nearly a million visitors, abroad Royal Caribbean cruises disembark yearly. According to the new president's plan, tourism will play a major role in the continued rebuilding process of Haiti.
Jovenel Moise ended his speech by asking the religious leaders of the country, to consecrate "three days of prayer" for God to guide him during his arduous work, ahead.
One notable moment immediately following the newly sworn in President's speech, was the singing of the National Anthem; in Creole; the clause dedicated to Agriculture, instead of the traditional one giving homage to the ancestors that is usually sing during such a ceremony.
For Haiti in the name of the Ancestors
We must toil, we must sow
It is in the soil, that all our strength seats
It is it that feeds us
Let us toil the soil, let us toil the soil
Joyfully, may the land be fertile
Mow, water, men like women
Must we come to live only by our arms' strength.
In : Haiti Breaking News