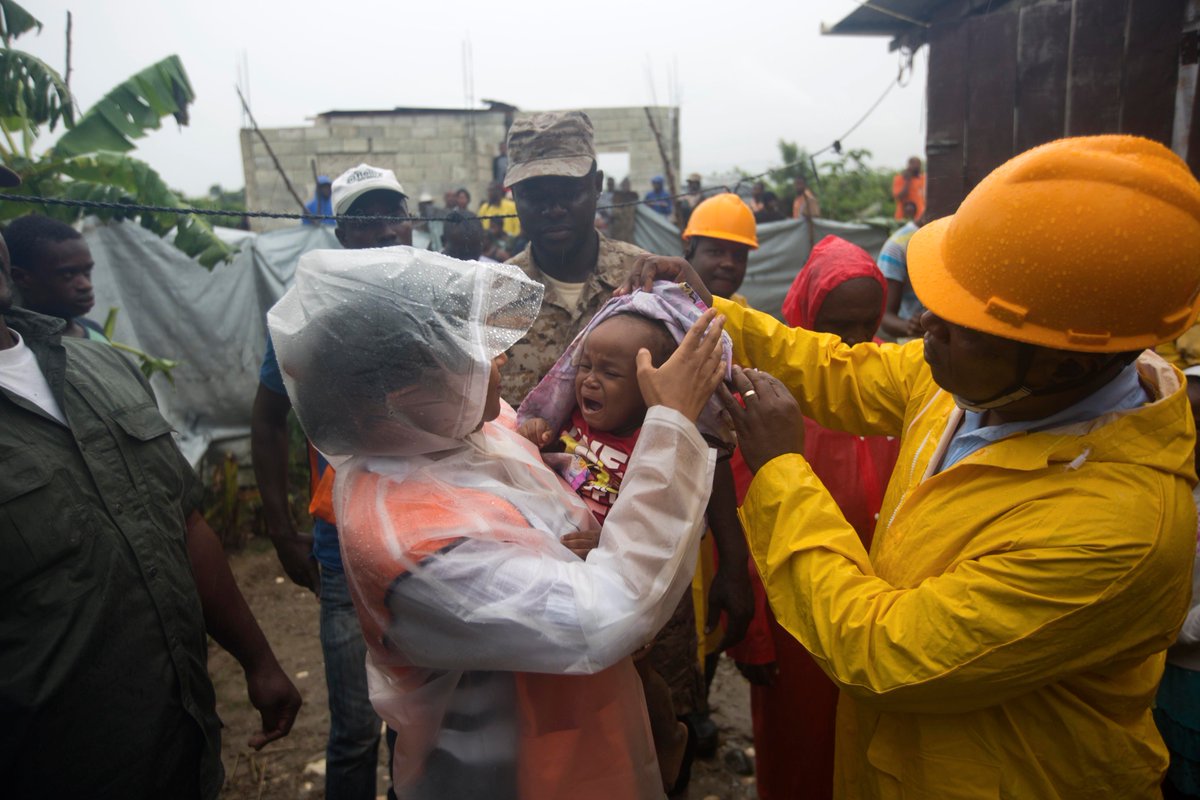 Emergency response teams are having a very difficult time reaching those affected the most by Hurricane Matthew in Haiti, after the devastating storm washed out the Ladigue bridge in Petit Goave, cutting off road access to Haiti's southern tip, the area where hurricane Matthew had the most powerful impact. This situation has made it nearly impossible to know exactly the extent of the damages of the unprecedented storm. So far only six people have been confirmed dead, by local news outlets. Four in Port-au-Prince and two fishermen in the Southwest Department.


With winds of 145 mph and some 4 feet of rain over the deforested hills of Haiti, Hurricane Matthew has left behind a long trail of devastation. "What we know is that many, many houses have been damaged," Haitian Interior Minister François Anick Joseph said. "Some lost rooftops and they'll have to be replaced while others were totally destroyed." Officials are preparing for the displacement of thousands of people as a result.
The Haitian government has been overwhelmed by the situation due to lack of ressources, and has officially requested the help of the United States, which is also expected to be affected by the hurricane, to help provide relief efforts. Yesterday the US Navy has confirmed that it has already send three ships, including an aircraft carrier and a hospital ship to Haiti; packed with shelters, clean waters, first aid materials and sanitation necessities. About 300 Marines were aboard the USS Mesa Verde, an amphibious transport vessel.


Yesterday, at a news conference Denis McClean, spokesman for the UN agency for disaster prevention (UNISDR) said that the United Nations was very concerned about the impact of the storm in Haiti and that the world organisation was closely monitoring the situation. The UN deputy special representative for Haiti Mourad Wahba is calling Matthew "the largest humanitarian event" in Haiti since the earthquake and said "much of the population" has already been displaced. He said that at least 10,000 people were in shelters and the country was running short of clean water.
The Haitian government has also called on the UN peacekeeping soldiers, deployed in Haiti since 2004, to help assist the response to the hurricane. The UN mission, or MINUSTAH, as known in Haiti, has many helicopters that could help fly aid and victims to and from the affected areas cut off by road access, but with the storm still raging, there's not much that can be done besides waiting for the calm to return.