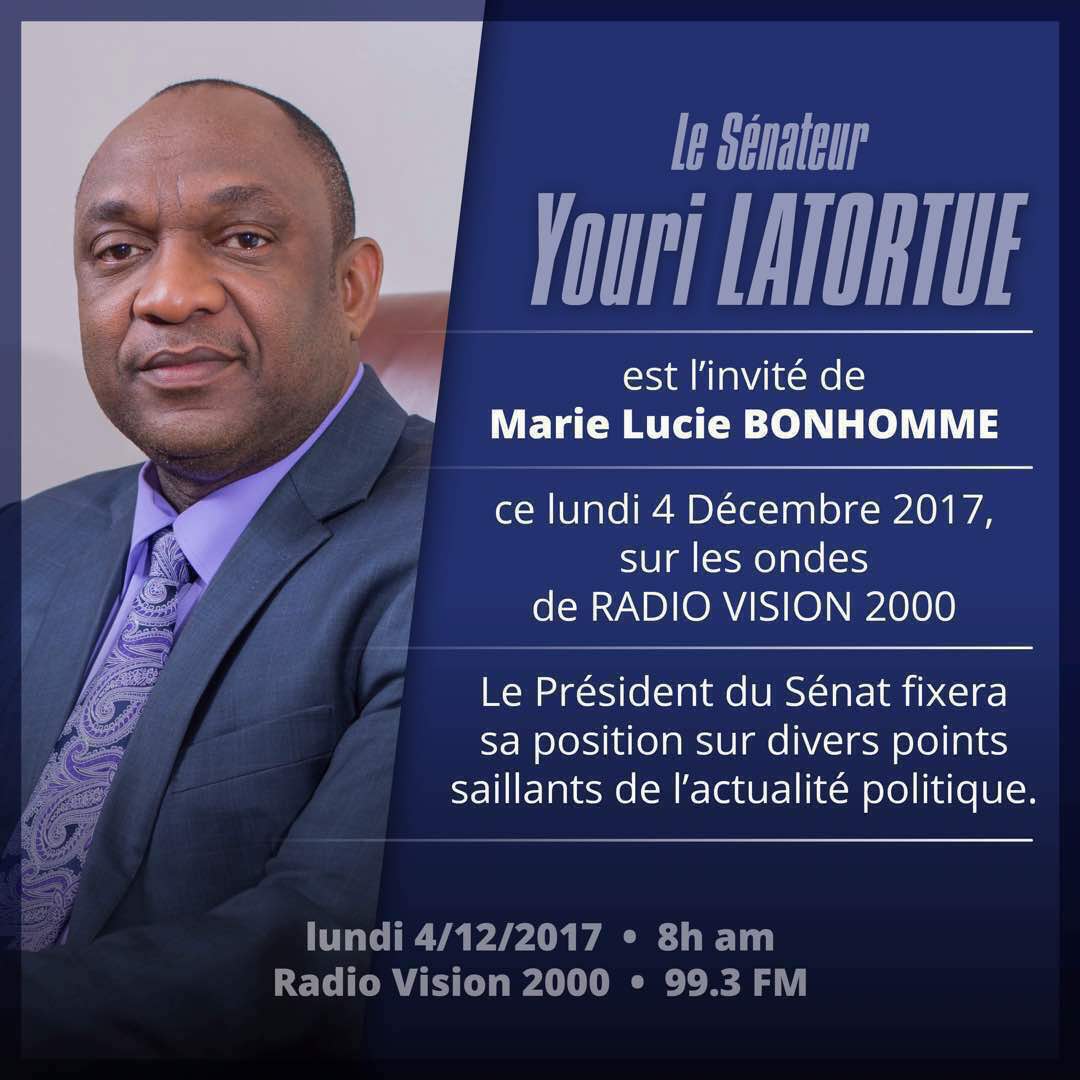 The President of the Haitian senate, Youri Latortue, early on Monday, had a sit down interview with Marie Lucie Bonhomme of the local Radio Vision 2000, to discuss many issues making waves in Haiti and, as the Radio advertised, to "set
his position on various highlights of the political news."
As expected, the first question of the journalist was about the Petorcaribe corruption report, which is currently rocking the political climate in Haiti. "Why didn't the Senate's November 30th session to vote on the report take place?" She demanded from the get go, while also asking the Senator about the allegations of fellow colleague, Senator Jean Renel Senatus, who said " President Moise had asked 19 senators to vote against the Petrocaribe report".

Senator Jean Renel Senatus of the opposition, alleges that on the eve of the anticipated senate special session last Thursday November 30th, President Moise initiated a meeting with 19 senators from his own party, to vote against the resolution which recommended serious corruption charges, such as extorsion and embezzlement of public funds against many close to President Moise himself, including his Chief of Staff, Wilson Laleau and Secretary Yves Germain Joseph among many others.




Yourie Latortue would not confirm wether or not he was aware of the alleged secret meeting between the President and 19 senators, but said that during the debate last Thursday, " there was a Prime minister sending text messages, asking senators to leave the chamber." " I won't mention any name, but it is a certain Prime minister." responded Mr Latortue when Lucie Bonhomme probed him to clarify it it was the current Prime minister, Jack Guy Lafontant.


Some three weeks ago, the Haitian senate's ethic commission published a damning 686 pages report on the use of the so called Petrocaribe funds; the conclusions were that some $3 billion of said funds which were suppose to finance various social projects, were mostly wasted, mismanaged and embezzled in what the report concluded was essentially a "large scale state fraud."




The document also recommended that those accused be pursued in a court of law.

Most of those pinned by the senate's ethic commission are current government officials and officials under President Michel Martelly who had handpicked Moise as his successor.

A public march against corruption is expected to attract thousands in the Capital Port-au-Prince tomorrow.
In : Corruptions