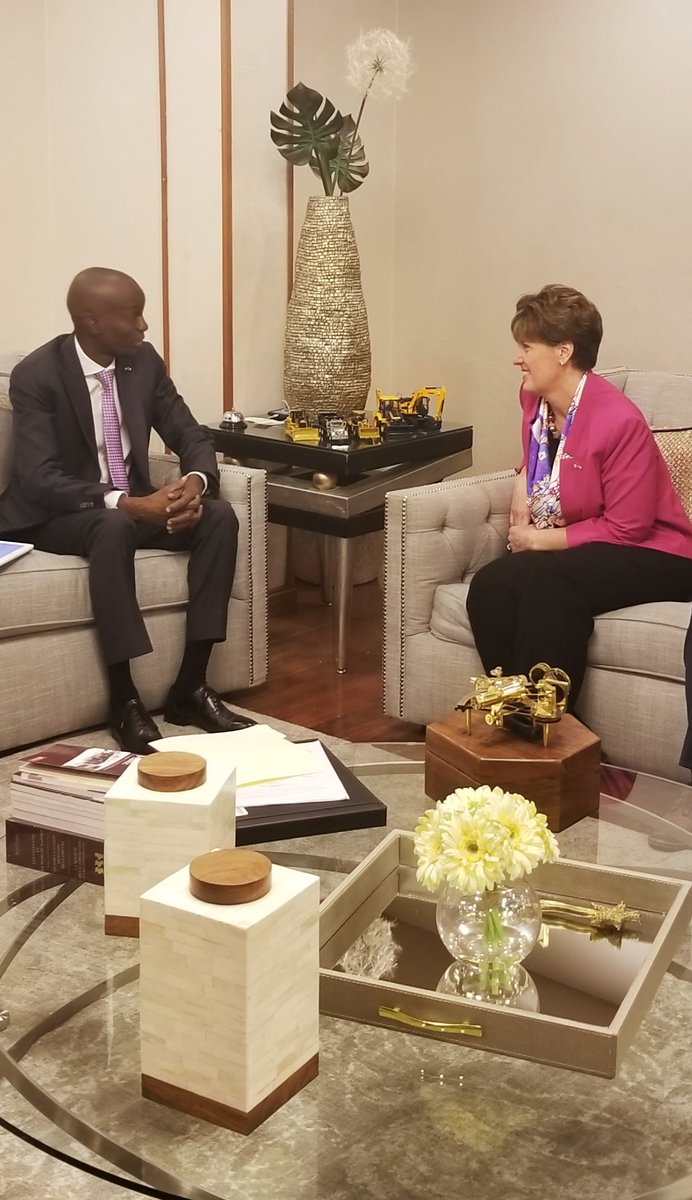 The Canadian Minister of International Development and La Francophonie, Marie Claude Bibeau, who is in Haiti for a three days visit from the 18 to the 21 of February, today met with Haitian President Jovenel Moise, at the National Palace.
"I am receiving Ms. Marie-Claude Bibeau, Minister of International Development and Francophonie of Canada, who visits Haiti from February 18 to 21, 2018. This meeting gives us a new opportunity to review the cooperation between Haiti and Canada. " Twitted President Moise a few hours before receiving Mrs Bibeau who has also met with Haiti's Prime Minister Jack Guy Lafontant, seven other ministers and many Haitian lawmakers.
The Canadian Minister, during her third visit to the Caribbean Island announced an $8.3 million in support for women and highlighted Canada's goal in supporting the empowerment of women and girls in Haiti "to make the country's whole population stronger more resilient and more self reliant."
Mrs Bibeau reiterating Canada's support for Haitian women comes as the scale of Oxfam's sexual scandal in Haiti increases. An organization with a significant presence in Canada and which receives millions of dollars of fundings from the Ministry which Mrs Bibeau heads. The Canadian Minister of International Development implores Canadians to maintain faith in the humanitarian organization and its workers, arguing in a telephone interview from the Haitian capital of Port-au-Prince on Monday, that while "a case is a case of too much", that should not "generalize" and talk about a "corporate culture" within the organization based in Britain.


The reputation of Oxfam has been completely tarnished after it was recently revealed in an explosive reporting by the British newspaper the Times, that the humanitarian organization had covered up sexual misconducts of its employees in Haiti in the aftermath of a catastrophic earthquake in 2010. Many high ranking aid workers, including its then country Director Roland Van Hauwenmeiren had used donated money to pay for sex and orgies with prostitutes in Haiti, many of them underage. According to an internal investigation which Oxfam was forced to made public as the scandal continues to escalate. Oxfam had allowed the director to resign with "dignity."


President Jovenel Moise who has said that the scandal involving Oxfam, was only the "tip of an iceberg", had also called for criminal investigations of those involved.
In : Diplomacy