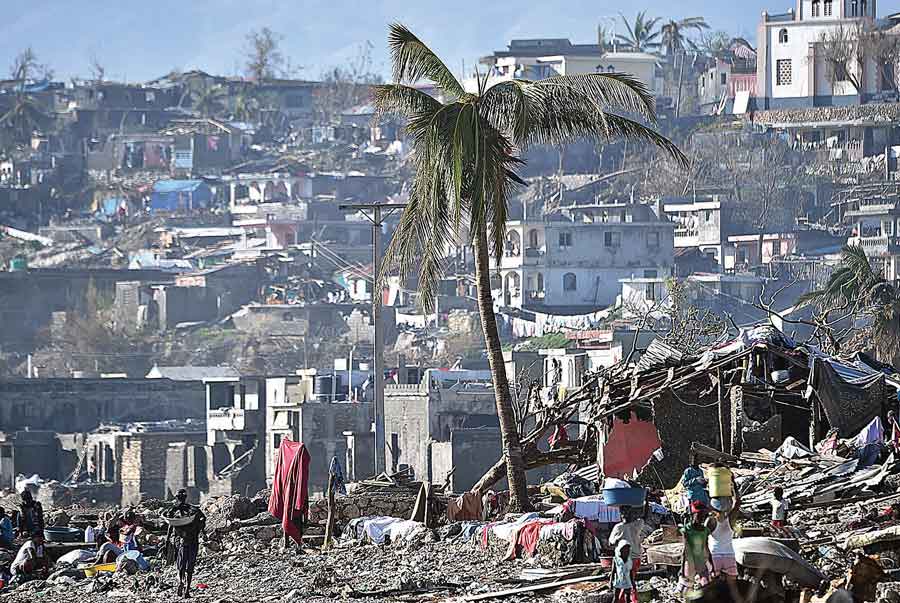 A cholera outbreak that Haitian health officials feared would rise in the wake of the devastating Hurricane Matthew, seems to be slowly materializing. The deadly epidemic has already claimed the lives of 13 people in South west Haiti, the area most affected by the hurricane. Other towns hard hit by the effects of the storm such as Port-a-Piment and Les Anglais are also experiencing a surge of cholera cases. Dr. Donald Francois, head of the Haitian health ministry´s cholera program, said 62 were sick with cholera as a result of the storm.

Hurricane Matthew made landfall in Haiti this past Tuesday as a category 4 hurricane; powerful winds of up to 145 mph and some 3 feet of rain left behind a long trail of devastation. Some 90% of the homes in the hardest hit areas have been either destroyed or severely damaged. Flash floods and raging rivers wiped out people, homes, clinics, schools, bridges and roads indiscriminately. The United Nations estimates that some 350.000 people have been left displaced as a result of this unprecedented hurricane.

Even a long rainy day is usually caused for concerns in Haiti that cholera would spread, due to lack of hygiene and as ground water moved because of rain and floods. Cholera causes severe diarrhea and usually kills within hours if untreated. It is spread through contaminated water and has a short incubation period, which leads to rapid outbreaks.



Great concern for cholera outbreak in Port-Salut

Another town of great concern and that is being given priority is Port-Salut. The southern picturesque beach town was wrecked by powerful waves, wind and rain; it has counted its first cholera case in seven months on Saturday, and two more suspected cases were brought by ambulance to the town's clinic, reports Reuters. The only building left standing in the entire town of Port-Salut is a clinic, which before the hurricane was understaffed, and lacked the necessary equipments to performed routine treatments.

Cholera was inadvertently introduced to Haiti by UN Nepalese peacekeepers deployed to Haiti following a devastating earthquake in 2010 that had killed some 200.000 people. Cholera is endemic to Nepal and was unseen in Haiti for 100 years prior. The epidemic has since claimed the lives of more than 9.000 people and sickened hundreds of thousands more. The United Nations for six years categorically refused to admit to any wrongdoings and said that it was immune to the numerous lawsuits brought in US courts seeking compensations for damages, despite the overwhelmed scientific evidence proving the source of the outbreak to a UN Nepalese base that dumped raw sewage into the Artibonite river; Haiti's longest- Finally last month, the UN Secretary General, before his term ends in a few months, apologized for the role that the UN had in the epidemic. But said nothing about compensating victims. And as the death toll from this deadly disease continues to rise sharply, the UN is scrambling to find the funding necessary to eradicate this malady.