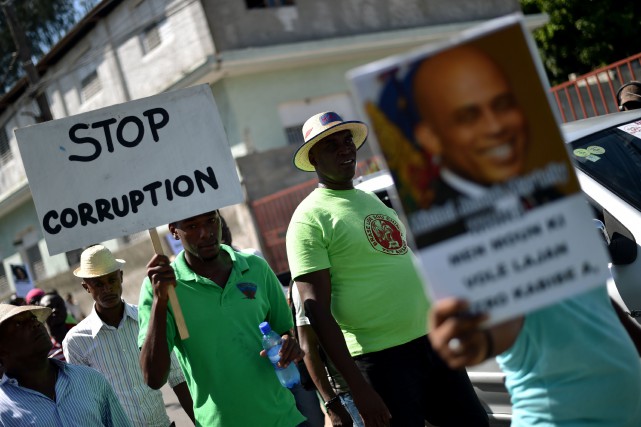 The corruption that gangrene Haiti is denounced in the official speeches, but, despite several investigations incriminating former ministers, the lawsuits are still waiting to stem this practice anchored in habits.
Whether it is Transparency International's ranking on the perception of corruption or Forbes's ranking on the business climate, Haiti remains one of the worst students year after year.
Haitian President Jovenel Moïse, elected in early 2017, shows his determination to clean up political life.
"Corruption, in all its forms, gangrene and atrophy the economy, has deeply weakened the political foundation and destabilized the social fabric of the country: corruption is a crime against development," he said before the United Nations General Assembly in September in New York.
These anti-corruption ambitions could have come to fruition after the publication in November of a parliamentary report accusing about fifteen former ministers, between 2010 and 2016, of being involved in a "large-scale swindle".


More than 600 pages detailed possible irregularities and suspicions of illegalities in the management of "Petrocaribe" funds, a loan program related to Venezuelan hydrocarbon purchases launched by Hugo Chavez for the benefit of a dozen Caribbean countries of the Americas.
Since Haiti joined the program in 2009, this significant source of currency has raised doubts about its proper use, as unlike other international financial aids, these funds are spent at the discretion of governments without even being accountable to the Venezuelan government lender.
"We know that there is bad management, because more than two billion dollars have been spent and it does not appear in the growth of the country," says the Haitian economist Kesner Pharel.
But, as it seems from any auscultation of the Petrocaribe program, the parliamentary report should not have judicial consequences like the precedent published in the summer of 2016, which had already involved about fifteen political actors without any procedure ensuing.
At this stage, and while the executive has a large majority in the Senate, no parliamentary debate has been opened to address the mere admissibility of the second report.
Complicity between elected officials?
"The parliament's refusal to vote on a committee report on corruption gives a very bad perception," says Pharel.
"It's as if there is a kind of complicity: we do not want to attack the one in power because we would not like him to attack us when we will be there. It is very bad to develop such a culture, " laments the economist.
Especially since this culture of corruption is well anchored in the minds.
"There are even proverbs that exactly reflect this trend, like " stealing from the state is not stealing," an expression in Creole sadly admits Youri Latortue, president of the Senate.
"Politicians, once they get to their jobs, think that they can get rich and that as soon as they finish their term or that their government is gone, they go to Miami, New York or they settle here comfortably without being worried, "he notes, laconically emphasizing:" Today, Haiti is among the most corrupt countries, but there are no corrupters or corrupt. "
With a very slow judicial system, the country is struggling to extricate itself from the vicious circle of impunity as judges and lawyers are often suspected of practicing law for the benefit of the highest bidder.
And the apathy of a majority of the population to waste the meager public resources does not encourage the mobilization of justice.
Tens of thousands of protesters rallied this summer in the neighboring Dominican Republic in the face of the Odebrecht corruption scandal, but only a few thousand protested in Port-au-Prince at a single rally in December.
"People have not received any education, so first we need to be able to explain to them what the effects of corruption are on the citizen," says Magguie Rigaud, a restaurateur who responded to the call from Civil society.
"For many unfortunately, it has become normal to steal when working for the state: a minister who does not have a nice car is seen as a mess. Some who have been honest live in misery, "she laments.
In : Corruptions