December 7, 2016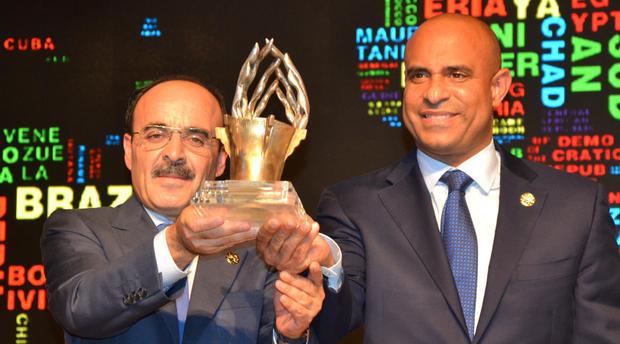 The Amadeus Institute awarded the 9th Medays Grand Prix to Haiti on Wednesday, December 7th in Tangier, in solidarity with the Haitian people who endure natural disasters. This consecration coincides with the official opening of the Medays Forum (December 7-10).
The Prize was awarded by Brahim Fassi El Fihri, founding president of the Amadeus Institute, to Laurent Lamothe, Prime Minister of Haiti.
The Haitian people have suffered greatly in recent months after the destructive passage of the hurricane, which has caused significant material and human damage.
Haiti suffers from the consequences of climate change. At the COP22 in Marrakech, Haiti has pleaded alongside Morocco for significant financial support from the international community to adapt to climate change. It should be noted that the Kingdom is committed to strengthening a strategic partnership with island countries.
It should be recalled that the Medays Forum in Tangier will adopt a declaration strongly supporting the return of Morocco to the African Union (AU), with the support of thirty representatives of African countries.
Brahim Fassi El Fihri recently told Le360 that "the appeal of Tangier reflects the interest of the African countries in an immediate return of the kingdom within its natural African family", in view of the Summit of the chiefs Of the AU to be held on 27 January in Addis Ababa, Ethiopia.
Former heads of state, ex-prime ministers, as well as several African and European ministers are present at the Medays Forum.
The 9th edition was to be enhanced by the participation of former CIA boss Wolsey James, the current security advisor to US President Donald Trump.
As for France, it is represented by Jean-Marie Le Guen, the new minister of la Francophonie, a close friend of Manuel Valls, former French Prime Minister and candidate for the presidential election.
Former Minister Jean-Louis Borlo will speak to take stock of the COP22 in Marrakech and his project to electrify Africa.
Posted by Mohamed Chakir Alaoui. Posted In : Environment